Star Tribune Feature Article: ATEK technology allows manufacturers to connect to Internet of things
Jun 27, 2016
Press Release
New ATEK technology measures fuel-tank levels, moisture and more while saving users time, money and equipment.
By Dee DePass Star Tribune

JUNE 25, 2016 — 2:00PM –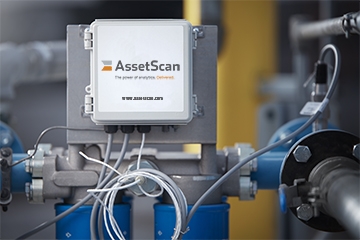 A new monitoring system from ATEK Companies, which measures and transmits data about factors such as fuel-tank levels and farm field moisture, is helping companies avoid costly maintenance.
The new "AssetScan," which ranges in price from $500 to $2,500 depending on the level of customization, comes with hardware, software and data analytic services for manufacturers wanting to instantly track and connect their data to the cloud or the Internet of Things.
The new product — which took about nine months, 12 engineers and $1 million to create — is the latest brainchild of the Eden Prairie-based firm that created the remote fuel-tank reading system "TankScan" five years ago.
With numerous alterations and software enhancements, the new AssetScan does more than read fuel tank levels, said Sherri McDaniel, president of ATEK's Access Technologies division.
"It's very new and very flexible," McDaniel said. "We are excited to build on our many years of remote asset management experience and apply it to new markets."
AssetScan is expected to generate tens of millions of dollars by applying the technology to new applications in agriculture, manufacturing, food/beverage and energy sectors. Officials say the device should double the company's Access Technologies division in five years and beef up ATEK's total sales, which are about $55 million a year.
McDaniel acknowledged that behemoths such as Honeywell, Foxboro, Emerson and Ecolab aggressively compete in the remote monitoring space. But she's not worried, because others tend to make complex monitoring systems for larger factories and complicated manufacturing processes.
ATEK is different because it caters more to farmers, "oil jobbers," auto repair shops and other simpler or smaller businesses that need to make sure fuel and equipment-lubrication tanks, especially those in remote areas, never run dry. As a result, AssetScan isn't expected to be a direct competitor to the larger players, McDaniel said.
Since February, the product has been introduced to thousands, including those attending the National Oil Recyclers Association show in Florida, the Internet of Things Fuse show in Minneapolis and the Agricultural Machinery Conference in Waterloo, Iowa. It will be shown at the Sensors Midwest show in Chicago in September and four more trade shows before December.
Meanwhile, months of beta testing with various customers are now turning into actual product orders.
Bloomington-based filtration giant Donaldson Co. recently deployed AssetScan units inside bulk fuel-filtration systems housed at customers' remote power generation plants.
The customized device now reads and transmits pressure data from Donaldson's filters to managers needing to know exactly when pressure begins to drop inside each filter. Such drops indicate the fuel filters are dirty and could soon become too grimy to function. Changing filters in time prevents the bulk fuel in giant diesel tanks from getting dirty and prevents costly plant, equipment and truck repairs.
Donaldson's total purchasing contract is worth more than $1 million, getting AssetScan's launch off to a good start.
"The labor required to maintain a bulk filtration system is costly, and customers are always looking for ways to improve operational efficiency," said Scott Grossbauer, Donaldson director of Clean Fuel and Lubricant Solutions. "The contaminants in today's diesel often lead to rapid bulk filter plugging. Donaldson WaveLength [system] is built on AssetScan [and so] alerts operators to any problems in real time, giving them peace of mind and allowing them to focus on operations, or what they do best."
Recently, Fluidall LLC in Delano ordered AssetScan to measure lubricant levels inside large stackable totes.
This month, John Deere installed several units in drain tiles so it could remotely measure if farm fields were too wet and thus a threat to hefty farm machinery. AssetScan also helped John Deere remotely check critical sump pumps that protect underground fuel tanks from flooding, McDaniel said.
"We put in AssetScan on those sites so they can keep track of all their drain tile locations without having to go out there," McDaniel said. "AssetScan delivers the power of analytics to our equipment manufacturing partners, helping them to differentiate their products and create a strategic competitive advantage."
AssetScan uses cellular connectivity, sensors, battery power and other systems that automatically check the health, battery life, environmental temperature and cellular data usage of each remote AssetScan system.
If potential problems are detected, the system is designed to initiate corrective measures that ensure an uninterrupted data stream.